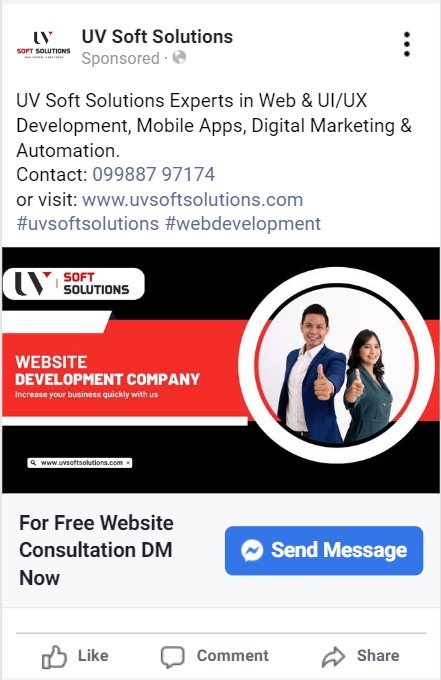 Facebook Marketing Services
Why Should You Invest In Facebook Marketing Services?
At UV Soft Solutions, we have a team of dedicated experts who create effective Facebook ad campaigns designed to attract potential customers. We use specific criteria like location, interests, age, gender, and business type to make sure your ads reach the right audience.

In addition to paid ads, we also develop a natural Facebook marketing plan. We create engaging and high-quality posts for your Facebook page to connect with your audience.

No matter what kind of business you have, our Facebook promotion strategy is all about highlighting your brand. We offer affordable Facebook marketing packages that work for businesses of all sizes.
Facebook Marketing Packages
Facebook Marketing Packages
At UV Soft Solutions, we take pride in being a leading Facebook Marketing Company in India. We have extensive experience in Facebook advertising and a proven track record of helping a wide range of clients succeed.
Our professional Facebook marketing services are designed to fit your budget and drive your business to greater success. Experience outstanding Facebook promotion services with our top-tier solutions in India. We're here to take your business to the next level.
Facebook Advertisements
Exploring the
Pros and Cons

of Facebook Ads

Many businesses are using Facebook ads to reach more people. They can be helpful for promoting your business, but they also have some problems. Facebook ads can be good for small businesses. They can help you connect with people who might be interested in what you offer. But, like anything, there are pros and cons.
On the positive side, Facebook ads can be affordable if you do them right. They can also help you reach a big audience and show your ads to people who are likely to buy from you. You can get a lot of people to see and interact with your ads. Facebook even lets you target people who follow your page or are connected to similar pages.

However, the success of Facebook ads depends on how well you plan and run them. If you don't do it right, you might waste money on ads that don't get many clicks. Badly made ads could also upset people and make them react negatively.
In conclusion, Facebook ads have great potential, but you need to be careful and smart when using them to get the best results and avoid problems.
Should You Consider Facebook Advertising Packages?
Are you a business owner trying to find better ways to increase your sales? Is traditional marketing becoming too complicated? If you said 'yes' to either of these questions, we have some exciting news for you. There's a new solution called Facebook advertising.

Facebook is the biggest social media platform globally, and it offers advertisers the chance to display their sponsored content. It provides various options, from 'boosting posts' to video ads. Plus, you can precisely target your ads based on location and demographics. Facebook advertising is particularly beneficial for business pages, especially local companies looking to reach people in their area. It's a great way to increase your brand's visibility and reach your desired audience. With all these compelling reasons, it's clear that Facebook Advertising is a smart choice.
Determining Your
Facebook Ads Budget
The quantum of investment in Facebook ads is influenced by several factors, encompassing your business objectives, target audience, competitive landscape, and budget. Here are some factors to consider when determining the ideal investment:
Business Objectives
Start by clarifying your marketing goals. Whether you want to increase brand awareness, drive website traffic, generate leads, or boost conversions, the size of your goals will affect your required investment.
Target Audience
The size and reach of your target audience influence your budget. A larger audience may need a bigger budget, while a niche audience can often be reached with a smaller one.
Competition
The level of competition in your industry on Facebook can impact costs. Higher competition might mean you need a more substantial investment to make your ads stand out.
Testing and Optimization
Set aside part of your budget for testing and optimizing your Facebook ads. This allows you to experiment with different ad content, targeting options, and messaging to find what works best. Testing helps refine your campaigns and maximize your return on investment.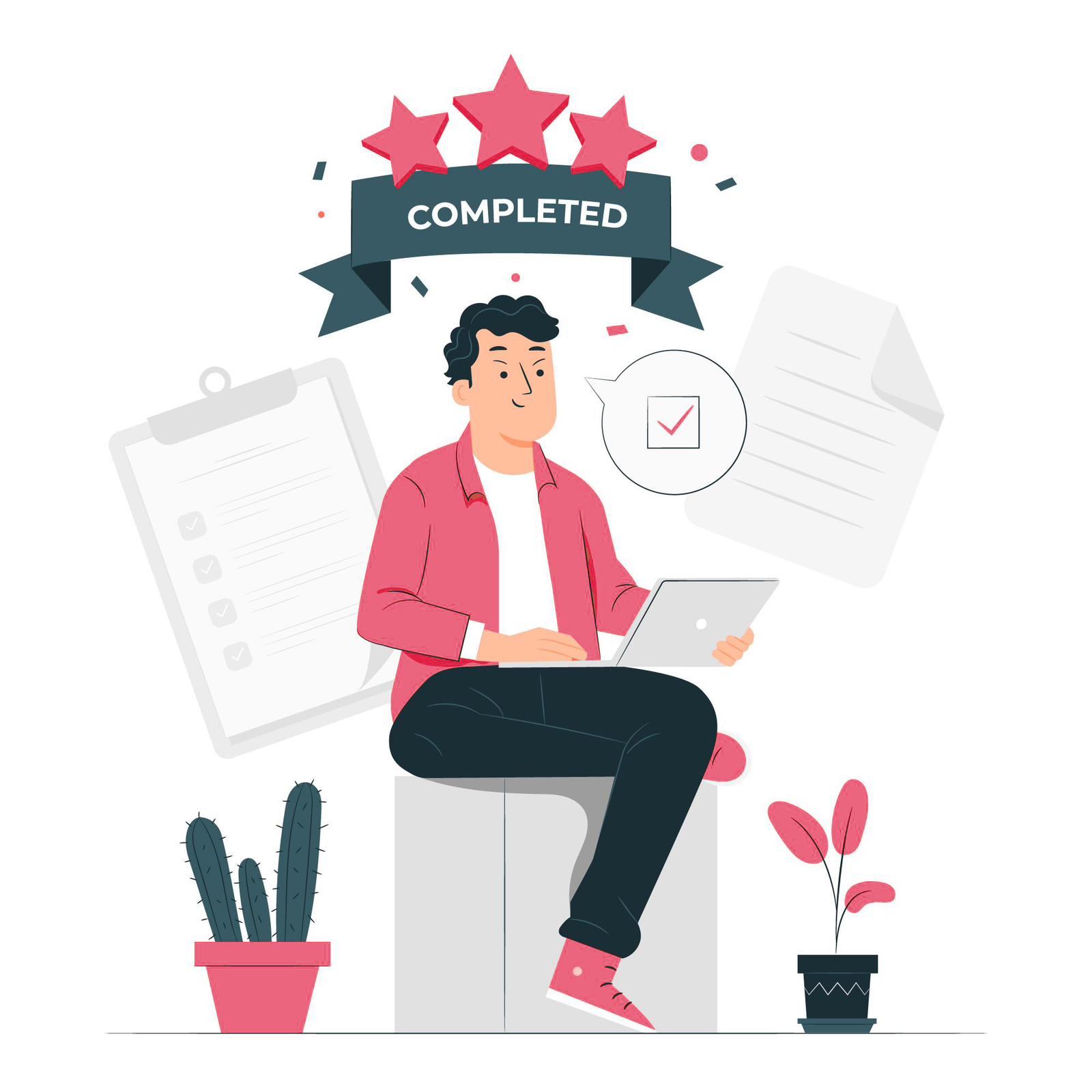 Budget Allocation
Consider your overall marketing budget and allocate a specific portion to Facebook ads. It's often wise to start with a modest budget and increase it as you gather insights and see positive results. This gradual approach allows for strategic testing and adjustments without committing too much upfront.
Cost per Result
Facebook provides data on the cost per result, such as cost per click (CPC) or cost per thousand impressions (CPM). Compare these metrics to industry benchmarks and your campaign goals to set realistic expectations and allocate your budget.
Return on Investment (ROI)
Evaluate the potential ROI of your Facebook ad campaigns. Think about the value and profitability of the desired conversions or actions. Assess the potential revenue or business growth that can be attributed to Facebook ads to determine an appropriate investment level.
Remember that your Facebook ad budget can be adjusted over time. Starting conservatively, monitoring performance, and gradually increasing your investment as you gain confidence and see positive results is a smart approach. Consistent monitoring, testing, and optimization are key to making the most of your Facebook ad campaigns.
Pricing Models for Facebook Ads
Facebook presents various pricing models for advertising on its platform. The two primary models are:
Cost per Click (CPC): With CPC, you pay for each click on your ad. This is good for getting people to visit your website, fill out forms, or take certain actions. You set the most you're willing to pay for a click, and Facebook does its best to get you clicks within that budget.
Cost per Thousand Impressions (CPM): CPM means you pay for every 1,000 times your ad is shown, whether or not people click on it. This is useful for campaigns focused on getting your brand seen by lots of people. You set the most you're willing to pay for 1,000 views, and Facebook tries to get you as many views as possible within your budget.
Facebook uses an auction system to decide which ads get displayed and how much they cost. When you create your campaign and tell Facebook who you want to target, your budget, and your bidding strategy, Facebook looks at things like how relevant your ad is, how much you're willing to pay, and how likely people are to take action to decide when and how often your ad appears.
In addition to CPC and CPM, Facebook offers other options like cost per action (CPA), where you only pay when specific actions happen, like purchases or form submissions.
Choosing the right pricing and bidding strategy for your campaign goals, while keeping an eye on performance and making adjustments when needed, is crucial for successful and cost-effective Facebook ads.
Range of Packages
Our Range of Facebook Marketing Packages Covers
Brand Awareness
Ideal for businesses aiming to enhance their brand's visibility, the Brand Awareness objective strives to put your brand in the spotlight for a wider audience. This objective proves most effective for companies new to the market or those launching a novel product or service.
Traffic Ads on Facebook
When opting for the "Traffic" objective, the primary goal is to drive increased traffic to your website or landing page. By selecting this objective, Facebook's algorithm streamlines ad delivery, ensuring it reaches individuals more likely to click through to your designated webpage.
Engagement Facebook Ads
The "Engagement" objective revolves around fostering interactions with your ad or content. Encouraging actions such as likes, comments, or shares, this objective seeks to attract individuals who are more inclined to engage with your content. Facebook's algorithm optimizes ad delivery to reach this engaged audience effectively.
Lead Generation on Facebook
With the "Lead Generation" objective, the focus shifts to collecting leads from your target audience. By choosing this objective, Facebook's algorithm ensures your ad reaches individuals more likely to provide their contact information in exchange for a valuable offer, such as an e-book or webinar.
App Promotion on Facebook
When promoting mobile apps, the "App Installs" objective comes into play. This objective is designed to boost the number of people installing your mobile app. Facebook's algorithm is geared towards showcasing your ad to users who are more inclined to download and install your app.
Sales on Facebook
For e-commerce ventures, the "Catalog Sales" objective is a powerful tool. This objective focuses on promoting products from your e-commerce catalog and driving sales on your website or app. Facebook's algorithm optimizes ad delivery to reach individuals who are more likely to make a purchase, thereby boosting your sales figures.
Our Facebook marketing packages cover all these goals, giving you a customized approach. This helps you make the most of Facebook ads and achieve your marketing objectives.
Monthly Facebook Advertising Plans
Why Choose Facebook Advertising for Your Business?
Undoubtedly, Facebook stands as the most prominent social media platform, boasting approximately 2.93 billion active users. With an astonishing estimate of around 6 new accounts being created every second, Facebook not only reigns as the most popular social platform but also provides an immensely fertile ground for effective advertising strategies.
Engaging Facebook Advertising Services can empower various aspects of your business growth, including:
Boosting Facebook Sales

Target Audience Precision at Affordable Costs

Enhancing Business Exposure

Increasing Organic Traffic

Expanding Online Marketing Horizons
Choose UV Soft Solutions!
One of India's Premier Facebook Marketing Companies
You might be curious about why Facebook ads consistently leave a positive impression on business owners. Let's take a closer look at some compelling reasons:
Cost-Effective Advertising
Results-Driven
Vast Audience Reach
Retargeting Capabilities
Invaluable Analytics
Customized Call-to-Action